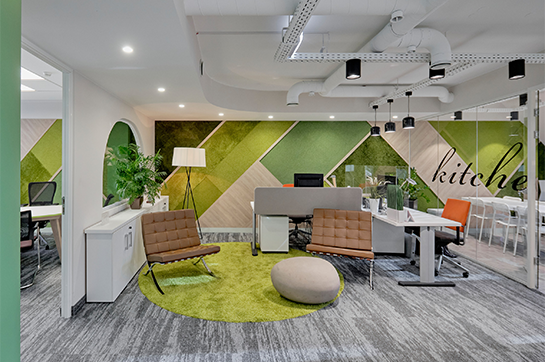 ConvergenCE moves to Árpád Center office building

08/10/2020
One of Budapest's most successful boutique real estate investors, ConvergenCE, has moved its headquarters into the Árpád Center. 
"We decided to move for two reasons. First of all, after our renovation, repositioning and sale of our previous office building, CityZen there was high demand for its offices. As ConvergenCE still asset and property manages the building on behalf of the owners, we were able to re-lease our office there at a higher rent, to benefit the owners. Secondly, the layout of the new office in Árpád Center better suited our team structure. The building is outstanding in both in its accessibility and the services it provides for tenants. At the new ConvergenCE headquarters we work in a pleasant, modern environment, in an office with a terrace on the fifth floor. Many services are available just a few steps from our building" – commented Csaba Zeley, ConvergenCE's Head of Asset Management. 
Árpád Center is located on Váci Road office corridor in the 13th district near Árpád Bridge. People who work here may use various means of transport as the building is easily accessible by bus, tram, metro, cars as well as bicycles. There is also a long-distance bus stop in the immediate vicinity. Árpád Center has an underground garage with 63 parking spaces for the exclusive use of the tenants and their visitors. 
Árpád Center was purchased by ConvergenCE at the beginning of 2019. The new owner has made significant investments in the 5.400 m2 building. In addition to the excellent infrastructure, all office areas have opening windows that let in plenty of natural light, while the panoramic terraces and the variability of the office spaces make the building even more attractive. The Árpád Center has an in-house pharmacy and a restaurant, while in the immediate surroundings several restaurants, bakeries, retailers and post office are available.
The interior design of ConvergenCE's new office was designed by the MádiLáncos Studio. The interior design company has been acclaimed several times previously at the Office of the Year Awards. In addition to modern design solutions they focus on efficiency, aesthetics, creativity as well as customer demand. The bright, fresh yellow-green colors of the walls, the modern surfaces and the grey floors create unity in the new ConvergenCE office space.