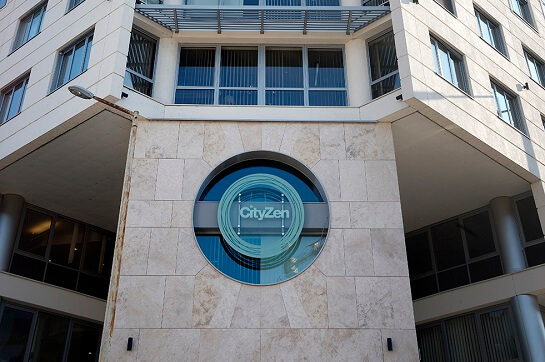 Invitel Zrt. completes Tenant Portfolio in CityZen

11/09/2018
CityZen office building has reached full capacity after leading Hungarian telcom provider Invitel Távközlési Zrt. moved to the building. Invitel, a company recently purchased by DIGI Group, decided to move its Headquarters from Budaörs to the A+ category CityZen office building on Váci út.
CityZen is an outstanding reconstruction project of ConvergenCE property development and fund management company. The original building dates back to 1996, one of the first "modern" office buildings on Váci út. For two decades it was known as Duna Office Center, but was purchased and completely reconstructed and relaunched by ConvergenCE in 2016. CityZen is a high-standard, A+ category office building in arguably the best location nearby Váci út / Dózsa György út intersection. "With the rebirth of CityZen we are proud to show that a formerly neglected building can be developed into a functioning A+ category success. We spotted the potential in its great location and structure, even if we had to rethink everything else" – says Csaba Zeley, asset management director of ConvergenCE.
After careful consideration, Invitel chose CityZen with the employees' needs in mind. "In June 2018 Invitel Távközlési Zrt. became a member of DIGI Group. Due to this change it was only sensible to give our employees a chance to work closer to DIGI headquarters in order to ensure better cooperation with their colleagues. A key aspect in our decision was the easy accessibility of CityZen from any point in the city. The building is located in a modern, developing area and its technological features are impressive, too. Along with other added value factors CityZen creates an excellent and well-balanced work environment" – says Dragos Spataru, CEO of DIGI on behalf of Invitel.