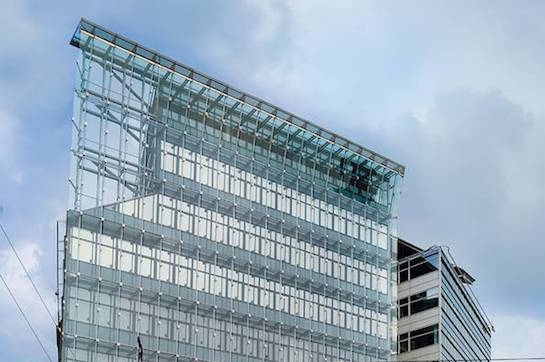 Contemporary dance on the façade: a new perspective for the Kalvin Square Office Building

11/20/2017
The Kalvin Square office building hosted an unique art event in late October, with its façade turned into an extraordinary, vertical stage by dancers performing in the air, hanging from ropes, under the auspices of the 26th Café Budapest Festival of Contemporary Art.
Bandaloop, an internationally acclaimed Californian dance group known for its "public art" performances, has toured 32 countries globally, with this being their first visit to Budapest. They usually stage their special choreographies on bridges, as well as on the walls of skyscrapers and other tall buildings. While in Budapest in March to search for the ideal venue for their planned performance, Bandaloop chose the Kalvin Square office building due its central location, ideal façade and the availability of all technical conditions necessary for the safety of the dancers.
"We are proud to have been part of this year's Café Budapest Festival. Located in the heart of the city, Kalvin Square has been a popular landmark and meeting point in the neighbourhood, but this artistic performance has literally opened up new perspectives in terms of connecting the office building with its environment and the local community", said Csaba Zeley, Asset Management Director of Convergence managing Kalvin Square.
Thanks to the spectacular performance of Bandaloop, passers-by could enjoy a brand new view of the iconic Kalvin Square office building. The glass windows of the façade, which mirror the lights, shapes and colours of the surrounding square day and night, literally came to life as the performance started. The building was surrounded by passers-by standing with bated breath, listening to the music and being enchanted by Bandaloop's dancers moving gracefully and dynamically in the air.
ConvergenCE operates several office buildings around the capital, aiming to ensure that these are in harmony with their surrounding environment, providing tenants an ideal office space, while also offering services to local inhabitants or tourists. Located in the heart of the capital, Kálvin Square has a total of 9500m² of A+ office space. Managed by ConvergenCE, the building has 100% occupancy.