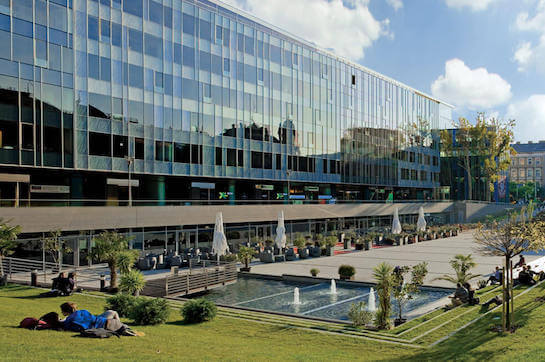 Eiffel Square receives BREEAM Excellent certification

03/23/2018
The Eiffel Square office building has been qualified Excellent in the BREEAM asset performance appraisal method in the In-Use Asset category. Under BREEAM, the world's leading sustainability appraisal method, the A+ category Eiffel Square Office Building has been certified as a building operating in an outstandingly environment-conscious manner.
Commenting on the 25,600 sq m building, János Szlovák, certified BREEAM assessor and CEO of ML2S Sustainable Solutions Kft.; "We assessed the building's location and extra services, the amount of green surfaces, the flexibly alterable office spaces, the economical use of electricity and water, as well as selective recycling solutions. All aspects taken into account, Eiffel Square has passed the test with excellence as a green office building."
Eiffel Square's environmentally conscious operations are facilitated by the building's excellent location. As a building in the city centre, it can be accessed both by public transport and by bicycle. Bikers can benefit from both private bike parking and bike-sharing (BuBi) docking stations at the building. Those cycling to work can also use changing rooms with showers in the basement. Car-free transportation is also supported by the fact that Eiffel Square offers virtually all the amenities that office staff may need during or after working hours, including a number of cafés and restaurants, as well as a food store and a medical centre in the building, with a post office, a shopping centre and a wide range of small shops also available in the neighbourhood.
Another valuable asset that complements Eiffel Square is the 4,800 sq m green park around it which is used as a space for relaxation by local inhabitants and tourists as well. The office building also has a number of green terraces and an extensive green roof. The latter, in addition to being an excellent heat insulator, is also furnished with bird feeders and bat houses that provide a refuge for a number of animal species living in the city.
The building is operated by ConvergenCE which is similarly committed to environment-friendly solutions and economical operations in all of the buildings it operates. "Being green actually means being more economical and operating with lower costs. This is one of the many reasons why Eiffel Square is 100% occupied" – says Csaba Zeley, Asset Management Director of ConvergenCE.
The Eiffel Square has received a number of awards: in 2010 it won the CiJ Best Office Development Prize, and in the same year it also received a 2nd prize at the international FIABCI Prix d'Excellence competition.